Getting Braces: When's the Best Time?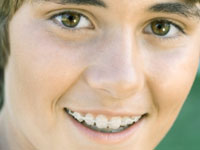 One of the questions orthodontists are most frequently asked is, "When should my child first be examined for braces?" There is not one right answer to this question. The best starting time for orthodontic appliances depends on the type of problem and its severity. Many orthodontists recommend that every child have an orthodontic evaluation at the time their permanent teeth are starting to erupt.
The timing of orthodontics treatment is important. Early examination allows an orthodontist to identify problems and determine when to treat them, for the best results with the least time and expense. For many patients, early treatment achieves results that may be impossible to attain once the face and jaws have completed their growth. In addition, early intervention makes the completion of treatment at a later age easier.
If no treatment is indicated at the initial examination, your orthodontist may simply want to check your child periodically while the permanent teeth erupt and the face and jaws continue to grow. At the initial exam the following will be evaluated: your child's facial growth (amount and direction), excess spacing between teeth, crowding, crooked teeth, extra or missing teeth, and habits that may affect growth and dental development such as tongue thrusting and thumb-sucking. These problems affect not only tooth alignment but facial appearance.
Finally, the importance of an attractive smile should not be underestimated no matter what your age. A pleasing appearance is a vital asset to one's self-confidence. A person's self-esteem often improves as treatment brings teeth, lips, and face into harmony, in this way, teeth straightening can be beneficial to social and career success and improve one's general attitude toward life.
Invisalign Braces and Orthodontic Insurance: Frequently Asked Questions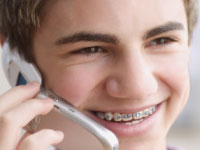 How much do Invisalign Braces cost?
As with other types of orthodontic treatment, the cost of Invisalign braces is heavily dependent on the complexity of a patient's case. However, the cost is generally more expensive than traditional braces. Which is why it is important to have good orthodontic insurance.
Are Invisalign Braces covered by orthodontic insurance?
Because medical benefits differ significantly from policy to policy, each patient should review their orthodontic insurance coverage. However, if a patient has orthodontic insurance, Invisalign Braces should be covered to the same extent as conventional braces.
How do Invisalign Braces effectively move teeth?
Like brackets and arch wires, Invisalign braces or aligners move teeth through the appropriate placement of controlled force on the teeth. The principal difference is that Invisalign braces not only control forces, but also controls the timing of the force application. At each stage, only certain teeth are allowed to move, and these movements are determined by the orthodontic treatment plan for that particular stage. This results in an efficient force delivery system.
Will TMJ affect Invisalign treatment?
TMJ refers to the temporomandibular, or jaw, joint. Individuals can have a number of problems with the jaw joint, some of which can be aggravated by appliances and treatments like Invisalign. To find out if your TMJ problem will adversely impact dental treatment, consult your Invisalign certified doctor. Be sure to ask your doctor about which orthodontic insurance plan is best for you.