Orthodontic Dentistry with Invisalign Braces - Invisibly Straighten Your Teeth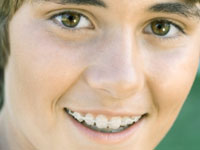 A vast majority of adults and adolescents can be helped with Invisalign invisible braces treatment. Invisible braces are one of the cosmetic dentistry options that can work for your teeth!
Invisalign treats a wide variety of cosmetic dentistry cases, including crowding, space closure, narrow arches, relapse, anterior intrusion, and limited treatment cases.
Are Invisible Braces Right For You?
Although only an Invisalign certified orthodontist in cosmetic dentistry can determine if invisible braces are right for you as adult braces, there's a quick way to tell if you might be a candidate. Call your orthodontist for an evaluation today.
Invisalign Orthodontics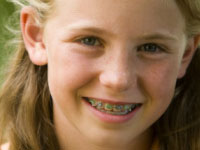 Ever wish that you could have teeth straightening done, without months of wearing those geeky metal braces? And wouldn't it be nice to get your crooked teeth straightened without anyone outside the family even knowing about it?
Believe it or not, there's a new way to straighten teeth with invisible braces. And your orthodontist can walk you through it!
The process is called Invisalign®, because it uses a series of nearly undetectable aligners instead of brackets and wires. Even up close it's really hard to see that you're wearing orthodontic appliances. So now you can have the smile you've always wanted…without the dental braces you've always avoided.
Invisalign can be just as effective as wire braces. Treatment takes about the same amount of time but is far more comfortable! And because Invisalign is removable, you'll have no problem eating, brushing or flossing.
Here's how it works: an examination is done to determine if Invisalign is right for you. If things look promising, photographs and X-rays are taken and an impression of your teeth is made. Then they are submitted to an Invisalign specialist. The specialist, after verifying that Invisalign will work for you, creates a treatment plan.
A smile of straight teeth starts with a phone call to your orthodontist's office. Why not do it today and find out how an Invisalign smile could change your life!